Next week, the World Bank Group (WBG) and the International Monetary Fund (IMF) will host their Spring Meetings in Washington, DC, from April 10 to April 14. These yearly events are a combination of official closed-door meetings among World Bank and IMF leadership, public seminars on global economic development, and high-level events featuring prominent officials.
The Civil Society Policy Forum (CSPF) during the meetings is one of the most critical opportunities to influence the institutions, as it allows civil society organizations (CSOs) and communities affected by development projects to engage directly with bank staff and officials.
As always, the Spring Meetings agenda will include discussions of major global events and trends impacting the institutions mandates. This year though, there are several significant circumstances that will influence the conversation, from the appointment of the new World Bank President to the growing public calls for the Bank to shift its financing away from fossil fuels.
Heres what we will be advocating for throughout the week:
Holding the International Finance Corporation Accountable for Remedy
When communities are negatively impacted by international development projects, they deserve justice for these harms. But the right to remedy has not yet been explicitly or comprehensively included in all the policies of international finance institutions (IFIs) from the World Bank to the Asian Development Bank. This means remedy for harm is still not accessible for most affected communities. 
This month presents a pivotal opportunity to change that. The International Finance Corporation (IFC) and the Multilateral Investment Guarantee Agency (MIGA) recently published a key proposal on remedial action and responsible exit, but it fell far short of what is needed. The draft framework did not admit that the institutions have a human rights obligation to remedy harms to which they have contributed, and it fails to provide a comprehensive plan for delivering remedy to affected communities.
Throughout the ongoing public consultation period, CIEL and partners have been leading efforts to urge the IFCs leadership to act on its responsibility to right the wrongs caused by its investments. We have gathered experts and community leaders for an event during the CSPF to discuss the drafts shortcomings and outline what a community-led, rights-based remedy framework should encompass. Moderated by CIEL staff attorney Sarah Dorman, the panel will feature:
Robi Chacha Mosenda, policy associate with Accountability Counsel;

Fernanda Hopenhaym, member of the United Nations Working Group on Business and Human Rights; 

Aaron Pedrosa, attorney with the Philippines Movement for Climate Justice; and

Piotr Mazurkiewicz, Principal Environmental Specialist from the IFC.
Join us for this conversation on Wednesday, April 12 at 11:00 a.m. EDT at the World Bank Group I Building: I 2-250 (livestream will be made available here).
Shifting World Bank Financing from Fossil Fuels to Renewable Energy
The WBG has financed and incentivized up to $165 billion in fossil fuel investments since the Paris Agreement was signed. It is past time for the Bank to set an example for both public and private financial institutions by supporting the rapid transition to a renewable energy economy.
Public calls for Bank reform have been escalating in the face of the accelerating climate crisis, and CIEL recently partnered with Recourse and TrendAsia on a report urging the World Bank to shift its financing policy and practice away from fossil fuel investments towards supporting renewable energy economies, in line with both global climate objectives and social and human rights safeguards.
During the CSPF, we are co-organizing an event with partners about the Banks renewable energy investments. The panel aims to critically examine renewable energy investments of the World Bank Group and its role in the energy transition from fossil fuels to renewables, and share best practices and recommendations to the Bank.
Join us for this conversation on Monday, April 10 at 9:30 a.m. EDT at Bank Information Centers Office.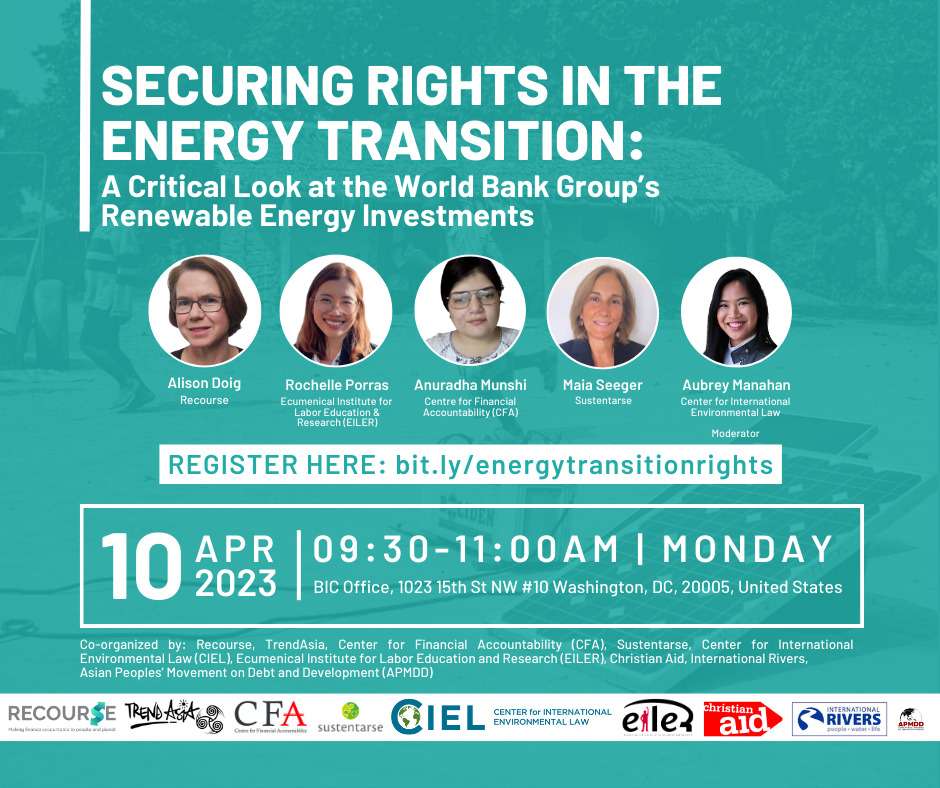 Pushing for Revolutionary Change from the New Bank President
When the Trump-appointed president of the World Bank, David Malpass, announced his resignation in February, public debate immediately began over the appointment of his successor. The next president must lead based on the knowledge that World Bank projects can sometimes do harm, not just good, to communities. The only way to begin to return legitimacy to the bank is with a clear commitment to take responsibility when harms occur, including taking meaningful action on climate justice. 
---
To keep up with these important conversations during the CSPF, follow CIEL on Twitter. 
Published April 6th, 2023