But the living conditions were a challenge. Their dilapidated, makeshift homes provided inadequate protection against heat or rain. A few of the families were forced to live together in a single house, which they built using scrap materials salvaged from their former village. They lacked both space and privacy. Without access to clean water, proper sanitary facilities or shelter, those were displaced began to have health problems. "People here began to fall ill because of the dirty water and many of us had regular stomach aches," says 23-year-old Yang-yang, a farmer.
Julie Subay, who was also displaced, shares that the temporary house he built had only a tarpaulin roof. "Water used to seep in whenever it rained heavily and we used to get wet even inside our house," he says.
A team from the International Committee of the Red Cross (ICRC) visited Barangay Puting Bato in March 2023 to assess the condition of the displaced people.
"The community lives several kilometres away from their agricultural land and forestry area and have limited access to basic supplies, timber and water. This made it hard for them to build sturdy homes. We also discovered that the residents didn't have proper toilets because of which they were even more susceptible to diseases," says David King, the ICRC's water and habitat engineer. Responding to the needs of those affected by armed conflict on a purely humanitarian basis, the ICRC built a new water pipeline in the village and provided water filters for each family. The ICRC team also built another water outlet so that villagers don't have to queue up for several hours to collect water from the only outlet that the village had previously.
To ensure that community members can repair their homes, install proper roofs and set up toilets, the ICRC provided them with construction materials. The Philippine Red Cross also held sessions to raise awareness about the importance of cleanliness and good hygiene practices.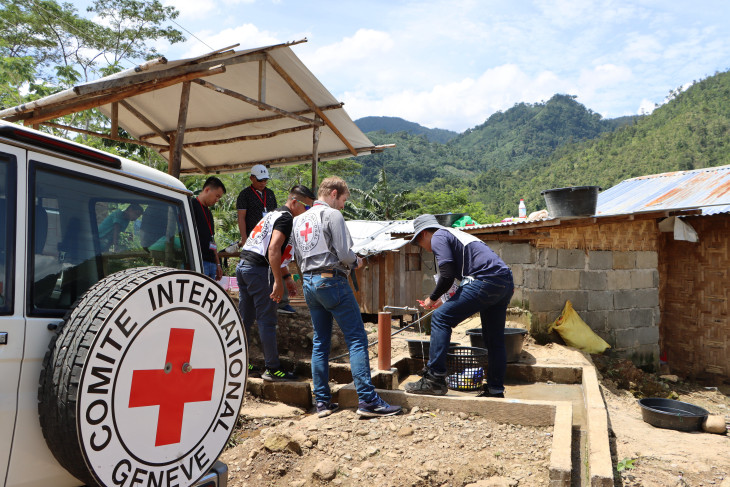 Melanie Subay, a 28-year-old farmer, says her family's life has changed for the better since they received help from the ICRC. The water is no longer as dirty as it was and the additional water tap is helping villagers to use their time a little more efficiently. "We used to wait for many hours to collect drinking water from the single tap in our area. I used to go to the riverside and wash my clothes. But it was difficult to carry all the clothes and walk for miles. That is why all of us are happy that we have another water source near our homes," she says.
Julie, her neighbour, agrees. "My house looks better now and I no longer worry about the rain. We also don't feel as hot as before because we have used woven bamboo mats for the walls and the roof," he says.
We acknowledge Source link for the information.